Usually i don't post stuff about waste music such as UK Mc No Bizzy unless of course shit is so dumb that it merits some exposure even if only for laughing purposes.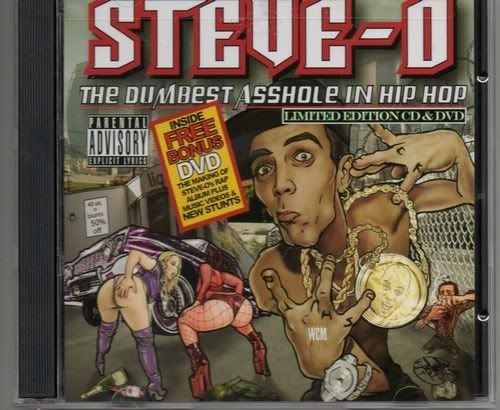 Now then, this is surely potentially as amusing as such other hip comedy classics like the R Kelly beef tune (where he calls out for Ne-Yo) or maybe even as amusing as Jim Jones' adlibs, " Vroom Vroom".
This, and i havent heard it yet, can only be an album full of bad rhyming, shit flows and Play school beats as The Jackass lays out his style in this his debut album. Steve-O did recently try to top himself or maybe he was sectioned. i'm not sure, as i don't watch the Hollyweird circuit to closely, it was one of the two anyway and I hope it wasn't a result of his lack of good reviews for his debut album or some rap beef. Finally the question that remains in my head is, how in the fuck did he get a feature from Kool G Rap on this and could it be any good? I saw the tracklist and he's there. True Stories!
Now the link i had for the download ain't working so as soon as i have a working one i will post it.
I myself am curious as hell to hear this particular white boy lay down some bars. Whats next for the Jackass boys??? Maybe Johnny Knoxvile is about to release a RnB love jams album called "know my gooch" (no homo).
Stay tuned for that one.